How To Feed The Desire To Travel Through Food
How To Feed The Desire To Travel Through Food

Feeling the urge to get out and explore? It's not just you. For the past several years, the general population has been stationary, stuck in routine and understandably itching for adventure. But rather than paying for a pricey airline ticket and tracking down lodging that isn't booked up, many are seeking an exotic getaway in a more familiar place: at the table.1
Every day, more diners are heading to restaurants to travel through their tastebuds as a way of exploring new cultures while indulging on unique foods.2 With so many looking for menus that deliver this experience, any operator should consider jumping on this opportunity.
"Global cuisine has maybe never been more popular than it is right now," says Hormel Foods Executive Chef Tony Finnestad. "It's a way for people to travel throughout the world without actually having to travel."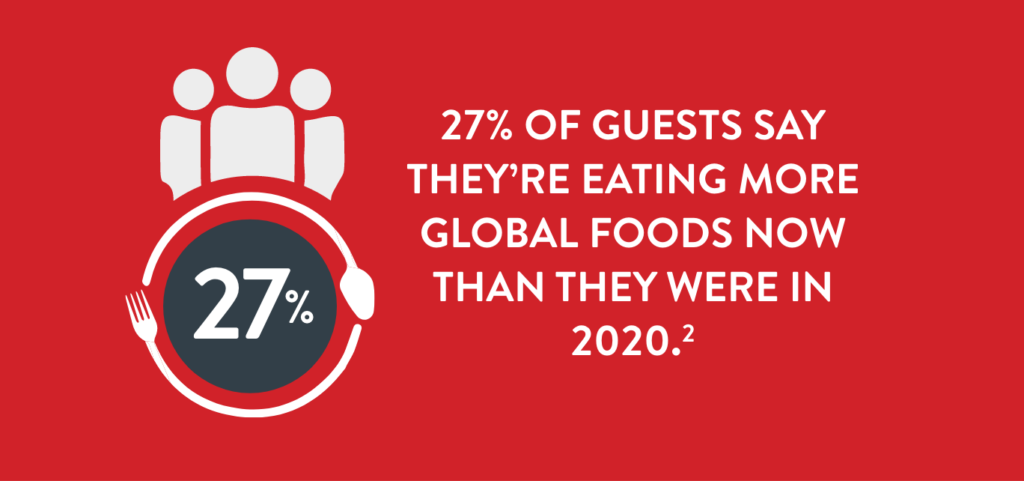 Watch How to Create Global Dishes with Chef Tony
Global Dishes Can Be Easy
The good news is that you don't have to rely on a pantry full of rare, imported ingredients. Just one prepared element can be the anchor to your recipes as your menu voyages around the world.
Since most dishes have a protein, the meat is a great place to start. Try proteins that come prepared in Hispanic, Hawaiian, Indian and Italian styles for a bit of tasty yet unexpected flair.
And just because certain flavors are culturally specific doesn't mean they're limiting. With a little creativity, you can use them well beyond their traditional dishes. Chicken Tikka Masala is commonly served with rice, but becomes delightfully surprising when layered across flatbreads, on appetizer crostini or over fries as an Indian-influenced poutine.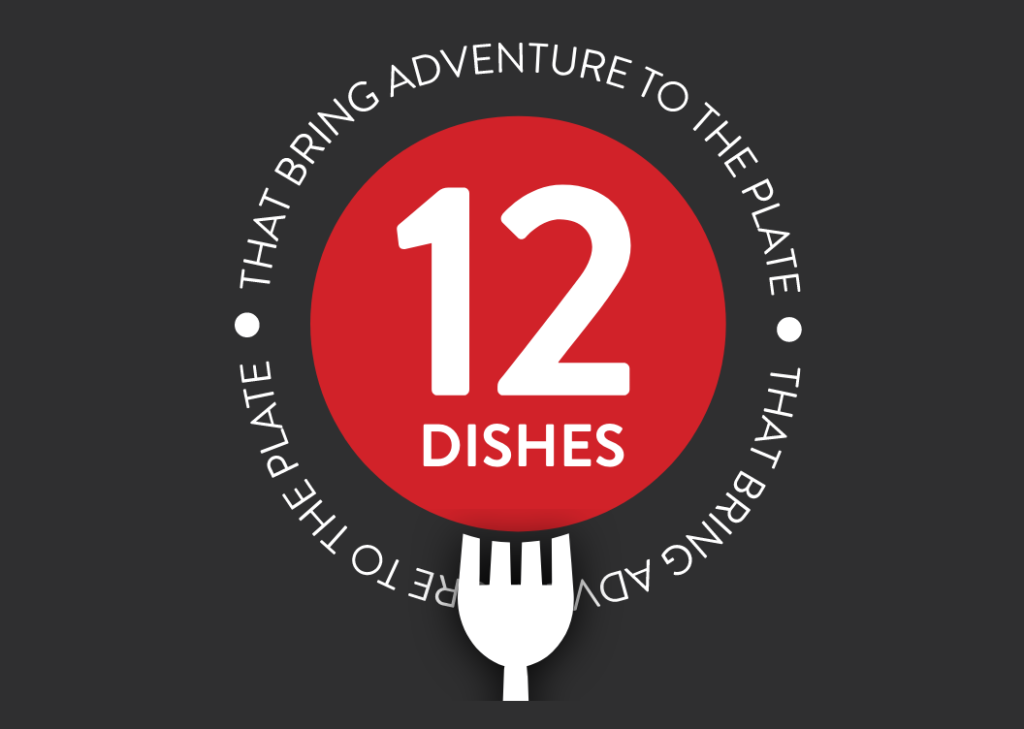 Try these styles of chicken, pork and beef to bring that sense of travel to your plates and excited customers to your tables.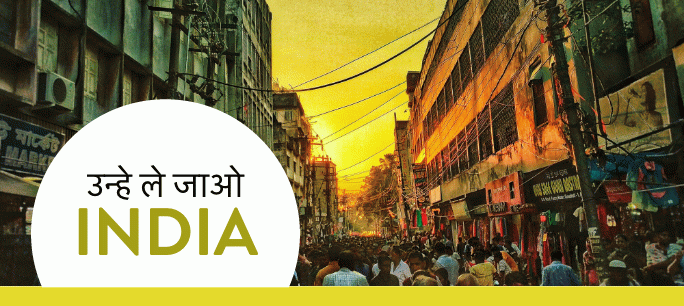 An Indian staple, this chicken thigh meat marinated in a creamy tomato sauce and features classic flavors from the country: turmeric, garam masala and ginger along with paprika and garlic.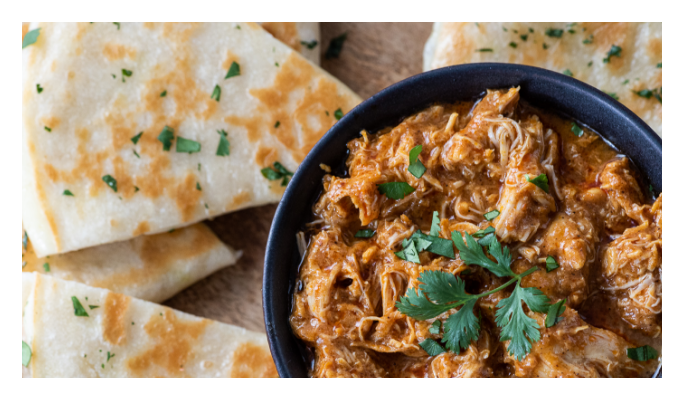 Griddled Tikka Dip
Pressed paneer quesadilla brushed with cilantro ghee, served with CAFÉ H® Chicken Tikka Masala and grilled pineapple raita.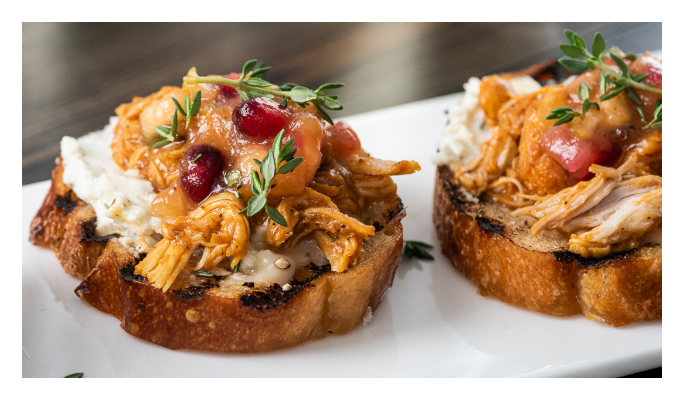 Goat Cheese Crostini
Grilled crostini topped with roasted garlic, herbed goat cheese, CAFÉ H® Chicken Tikka Masala and golden raisin-apple chutney.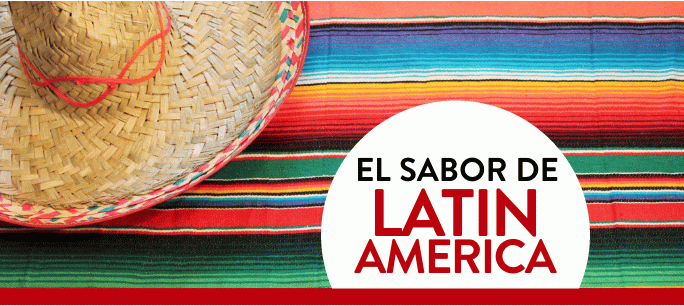 The name of this Latin American ingredient translates to "little meats," but the taste can make a big impression. Pork or chicken is marinated with garlic and citrus flavors, and slow cooked for tenderness.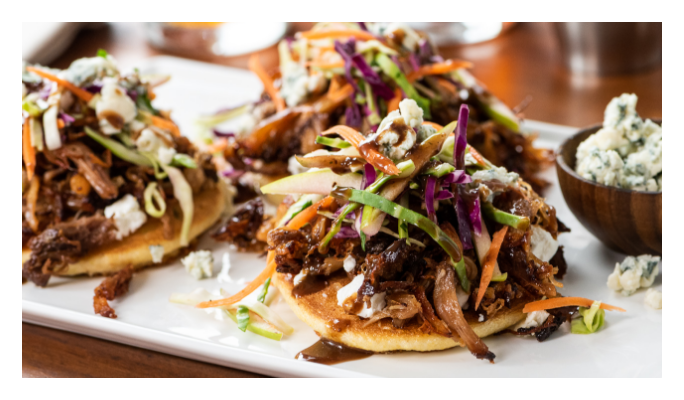 Pigs in a Blanket
Jalapeño cornbread cakes topped with crispy CAFÉ H® Pork Carnitas, goat cheese, fig vinaigrette and blue cheese-apple slaw.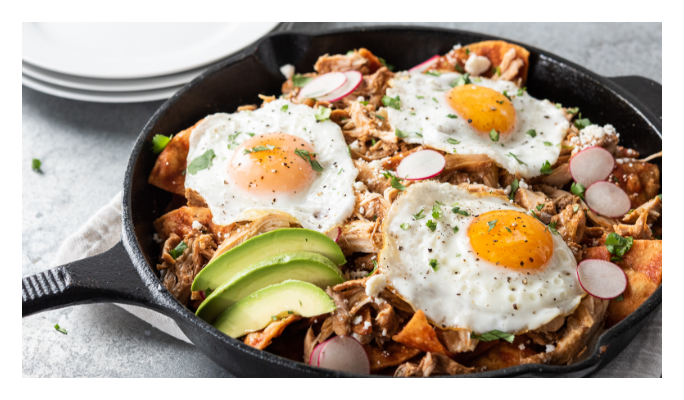 Breakfast Chilaquiles
Crispy tortilla chips covered in charred salsa rojo, queso fresco, fresh chopped cilantro and green chile queso, finished with poached eggs and CAFÉ H® Chicken Carnitas.
---
You can find barbacoa at tables all across Mexico, Latin America and the Caribbean. Trimmed pork or beef is slow-cooked for hours and seasoned with garlic, chilies and other spices.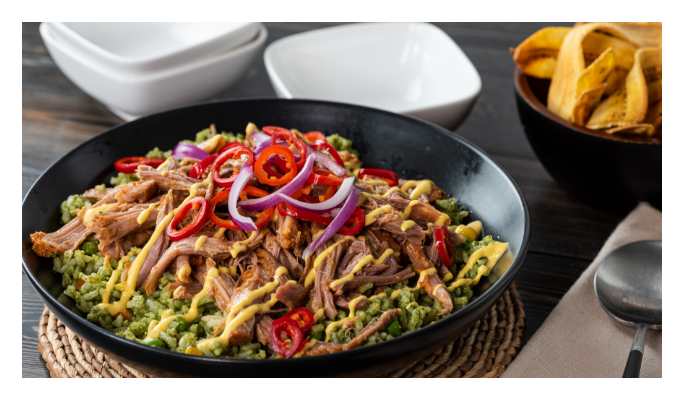 Peruvian Rice
Peruvian green rice topped with pickled fresno chiles and CAFÉ H® Pork Barbacoa, drizzled with aji amarillo sauce.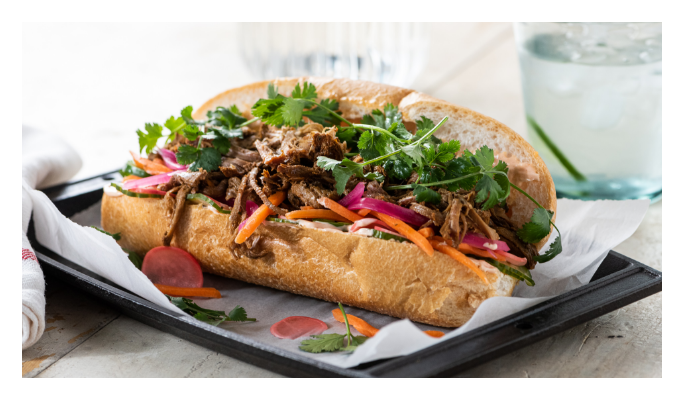 Barbacoa Banh Mi
A crisp French roll filled with pickled onion, fresh mint, pickled cucumbers, shaved jalapeños and CAFÉ H® Beef Barbacoa.
---
A classic Mexican dish, chicken tinga is brought to life when chicken is marinated with tomatoes, garlic, onions and chipotle peppers.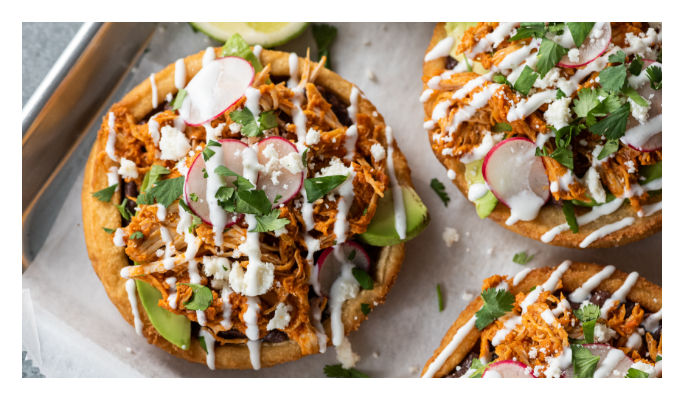 Chicken Tinga Sopes
Crispy corn cups filled with refried black beans, avocado and CAFÉ H® Chicken Tinga, finished with crema, cilantro and shaved radish.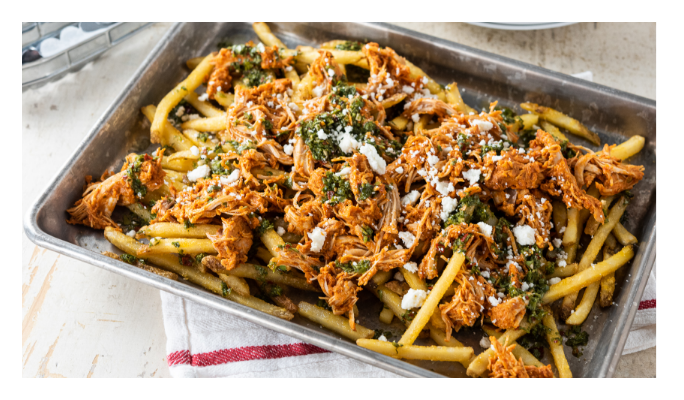 Chimichurri Fries
Crispy french fries drizzled with chimichurri sauce, queso quesadilla and CAFÉ H® Chicken Tinga.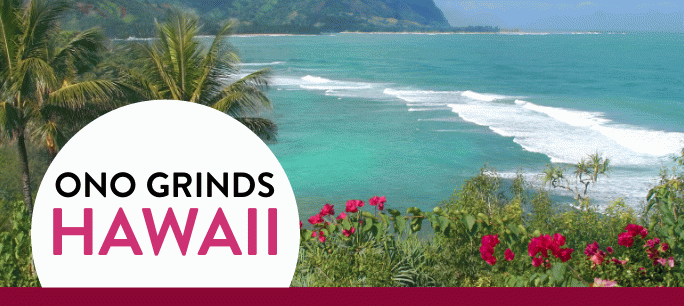 If you've ever attended a luau, you likely understand why Hawaiians are known for the way they prepare their pork: slow-cooked for a tender, sweet, smoky finish.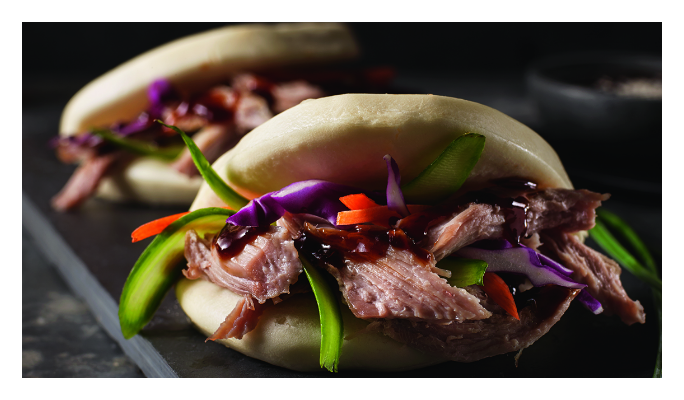 Bao Bun Sandwich
CAFÉ H® Kalua Pork, shredded carrots, red cabbage, zucchini ribbons and hoisin sauce.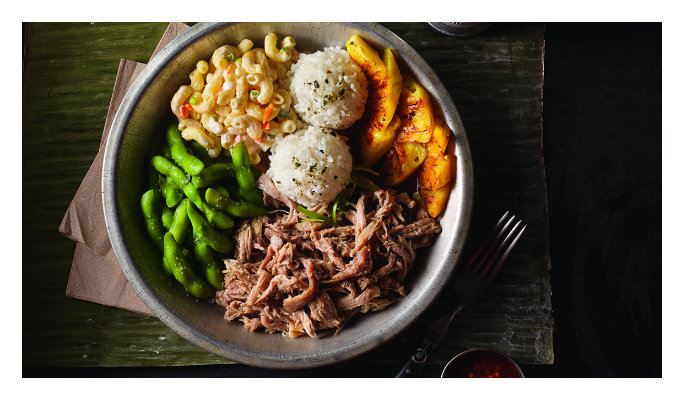 Island Bowl
CAFÉ H® Kalua Pork, rice, grilled pineapple, edamame, macaroni salad, Furikake and sweet chili sauce.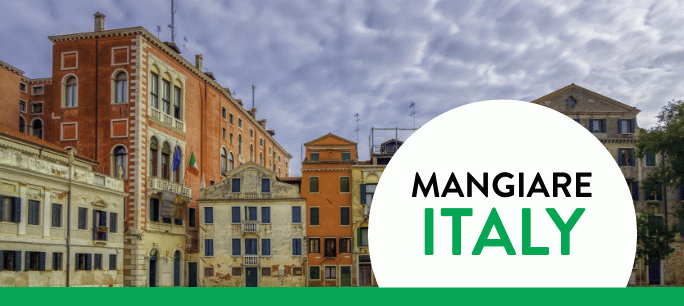 Ciao! This towering pork cut is often marinated in select Italian herbs, olive oil, spices and white wine before being slow-cooked for a fall-off-the-bone experience.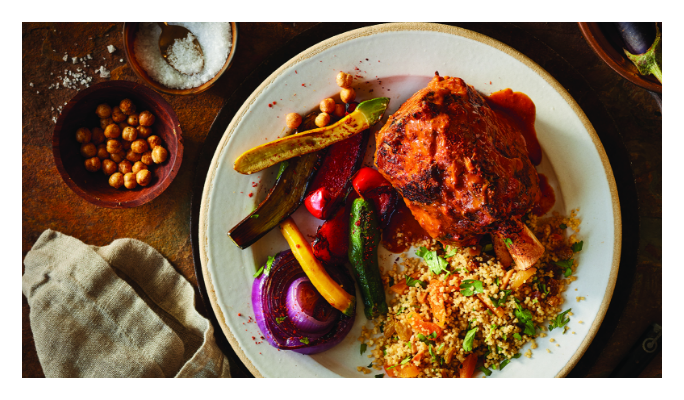 Mediterranean Ossobuco
CAFÉ H® Pork Ossobuco, couscous, grilled mixed vegetables and roasted red pepper sauce.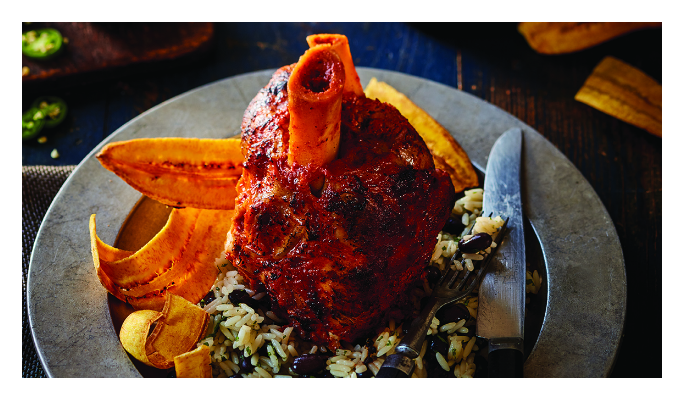 Cuban Ossobuco
CAFÉ H® Pork Ossobuco, rice, black beans, plantain chips and s'chug sauce.
---
1 Bake Magazine 2022
2 Restaurant Business 2022
---
RELATED CONTENT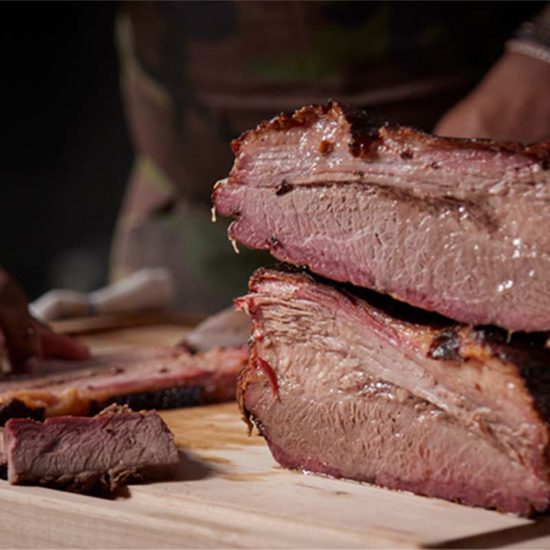 Why Brisket is Here to Stay
FROM GROWING TREND TO MENU MUST HAVE: Not that long ago, Texas-style brisket was an inexpensive workingman's meal found in…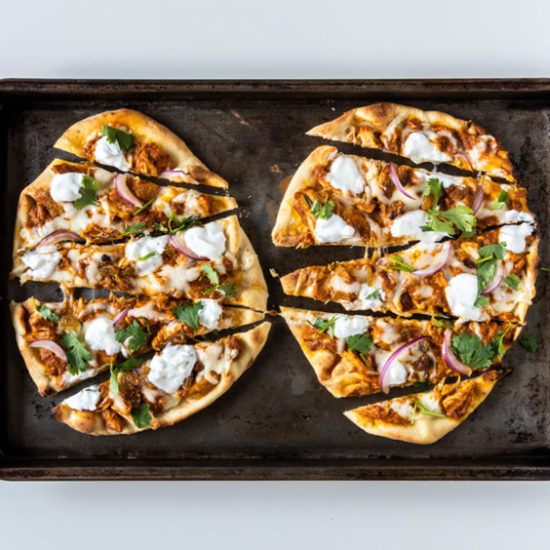 Masala Pizza
Need a quick, foolproof twist on your classic pizza recipes? Try this one, with the addition of CAFÉ H® Chicken…