Wood + BBQ 101
Wood + BBQ 101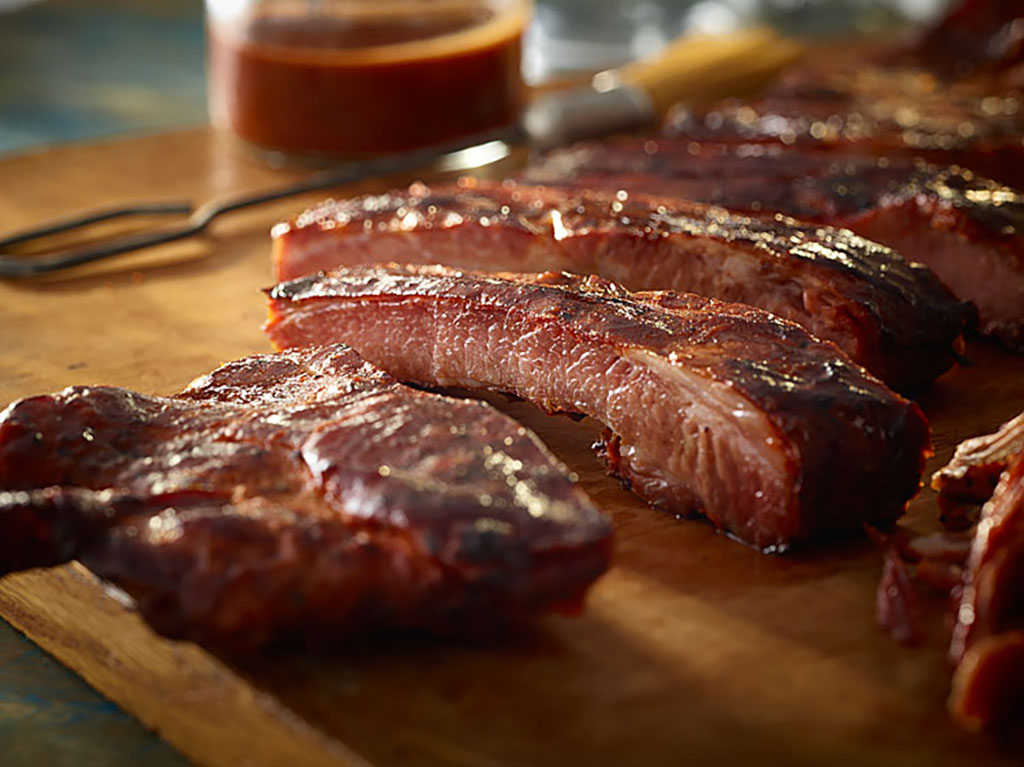 When it comes to the meticulous tradition of smoking meat, the secret is in the wood. Whether it's Pecanwood, Cherrywood or a blend of Hickory and Oak, each unique option results in a different flavor. And that flavor is what draws in diners and makes smoked meats (and beyond) so deliciously distinct.
How does it all work? We put together this simple overview to make it easier to select the right flavors for your menu.
Wood Flavors
Each type of wood offers its own flavor and aromatic element due to the climate and soil in which it is grown and the species of the specific wood. You can think about smoking woods on a spectrum from mild to strong.
On the mild side are fruit woods — Apple, Peach, Cherry and Pear. They impart sweetness but are subtle enough to use with lighter foods like poultry or fish, and sometimes pork.
Middle-of-the-spectrum woods include Hickory, Maple, Pecan and Oak. They're great with pork and strong enough to stand up to beef and game meats.
Mesquite has a bold, earthy flavor and is arguably the strongest wood of all. We typically consider it a category of its own.
Softwoods like cedar, spruce, redwood and pine should be avoided in cooking altogether.
Wood Blends
While a specific wood is often chosen for a particular job, it's common for two or more woods to be combined when smoking food to create a unique flavor combination — similar to how chefs use spices in a recipe. Smoking wood also plays a role in the color of your meat and often forms a bark, like the dark crust created on the surface shown below.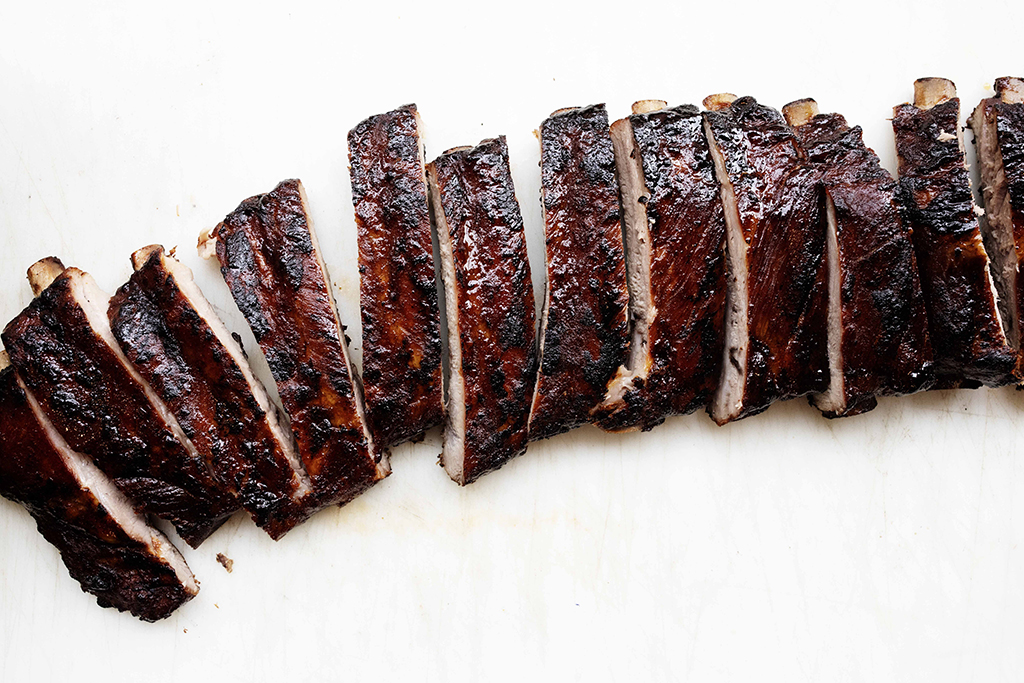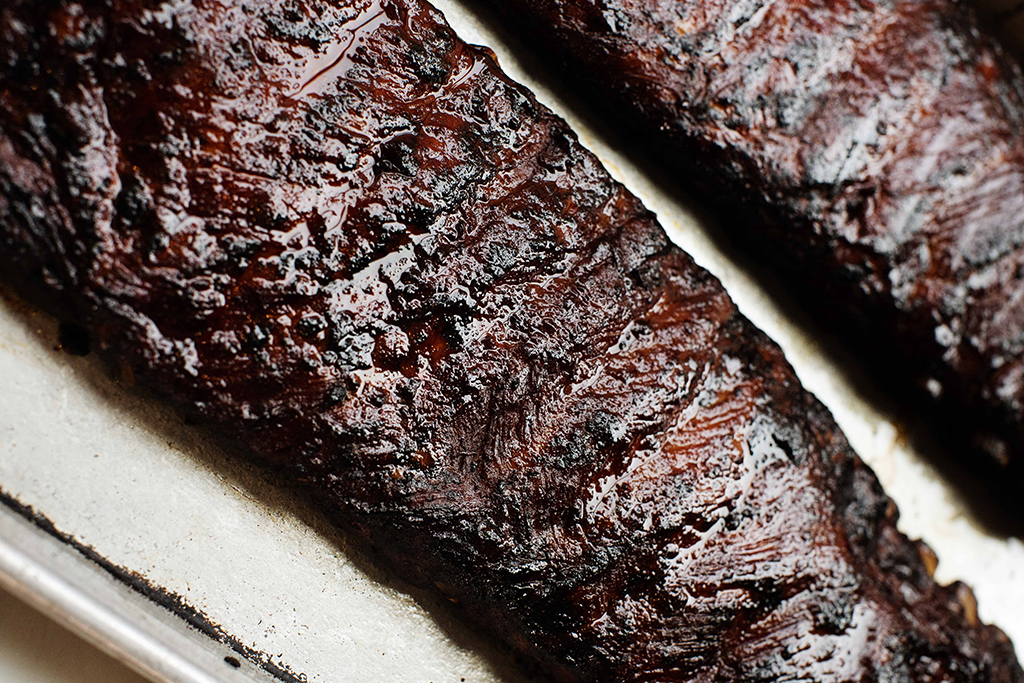 Chips vs Logs
The type of wood used will impact heat and time, which is the foundation for any good BBQ. Wood chips (usually around ¼" – 1" thick) will burn hot and fast, while wood chunks (larger pieces up to 4" in size) will burn slowly and release smoke over a long period of time.
Chunks don't need to be soaked but it's recommended that chips are (in water), so they don't burn up too quickly. Other soaking methods might include apple juice, wines or lagers. In commercial settings or when using large offset smokers, wood logs are typically used and can be up to 18" in length.
We prefer to leave the bark on our wood and often incorporate wood chips during smoking for a truly authentic barbeque preparation. Some pitmasters remove the wood's bark before smoking meat but both applications are acceptable options.
The Woods And What They're Used For
While there are dozens of smoking woods out there, here are ten of the most commonly used types:

Alder: Often the first choice when smoking salmon, Alder is a delicate wood with a subtle and naturally sweet flavor. It goes well with any fish and can also be used for pork, poultry and light-meat game birds. It's great mixed with Applewood chips too.
Apple: Sometimes referred to as the "butter of smoking wood," Applewood goes well with almost anything. Mild and sweet, Applewood flavors take time to permeate the meat so anticipate several hours of smoking. Applewood can also be used with poultry, beef, game birds, lamb and some seafood. It tastes great alone but mixes well with other woods.
For us, it's what makes our OLD SMOKEHOUSE® Applewood Bacon so delicious. Smoked over 100% Applewood chips, this bacon has a distinctive, rich-smoke, one-of-a-kind flavor.
Cherry: Cherrywood has a sweet and mild flavor that pairs well with beef or pork and the smoke turns meat a rich, mahogany color. It's what gives our all-natural* premium sliced hams their rich smoky flavor, including APPLEGATE NATURALS® Sliced Cherrywood Ham. Cherrywood is delicate in flavor and not overpowering, making it suitable for mixing with other woods such as Apple, Hickory or Oak.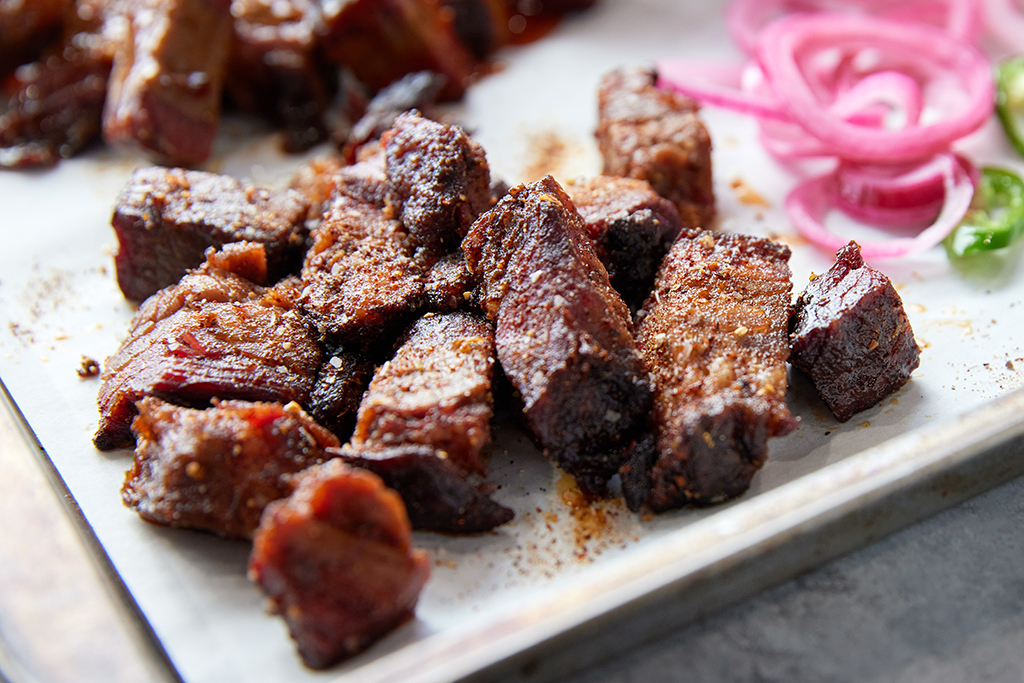 Hickory: Sweet, savory and a bit bacon-y, Hickory is often considered the most versatile choice for smoking food. Hickory is a good match for hamburgers, fatty beef cuts and lean pork. Our AUSTIN BLUES® Pit Smoked Proteins, for instance, are smoked over a unique blend of Hickory and Oak sourced from Texas, giving them a truly distinct flavor. Tip: since too much Hickory can be overpowering and cause the meat to have a bitter flavor, we recommend being conservative with this wood or using a blend.
Maple: Smoking with Maple is similar to smoking with other fruitwoods like Cherry. It gives the food a subtle sweet flavor and is especially delicious for smoking ham and bacon, including our OLD SMOKEHOUSE® Maple Pepper Bacon. Maple's sweet smokiness also pairs well with poultry and vegetables.
Mesquite: Ideal for grilling dark meats like beef, this intense, oily wood burns hot and fast so it's not ideal for long barbeques or lighter poultry or fish. Mesquite offers a bold earthy flavor and mixes well with other woods but can produce a harsh or bitter flavor if it's not used correctly.
Oak: Stronger than Apple and Cherrywood, Oak has a medium smoky flavor that is great on its own and works well with just about any meat. It's a particularly great choice for novice barbeque smokers and will rarely result in an overpowering taste.
Peach and Pear: Light and somewhat sweet in flavor, these mild fruitwoods are very similar to each other. Ideal for pork and poultry, both are also commonly used for smoking small game birds. They can be harder to find but their subtle flavor is worth the effort.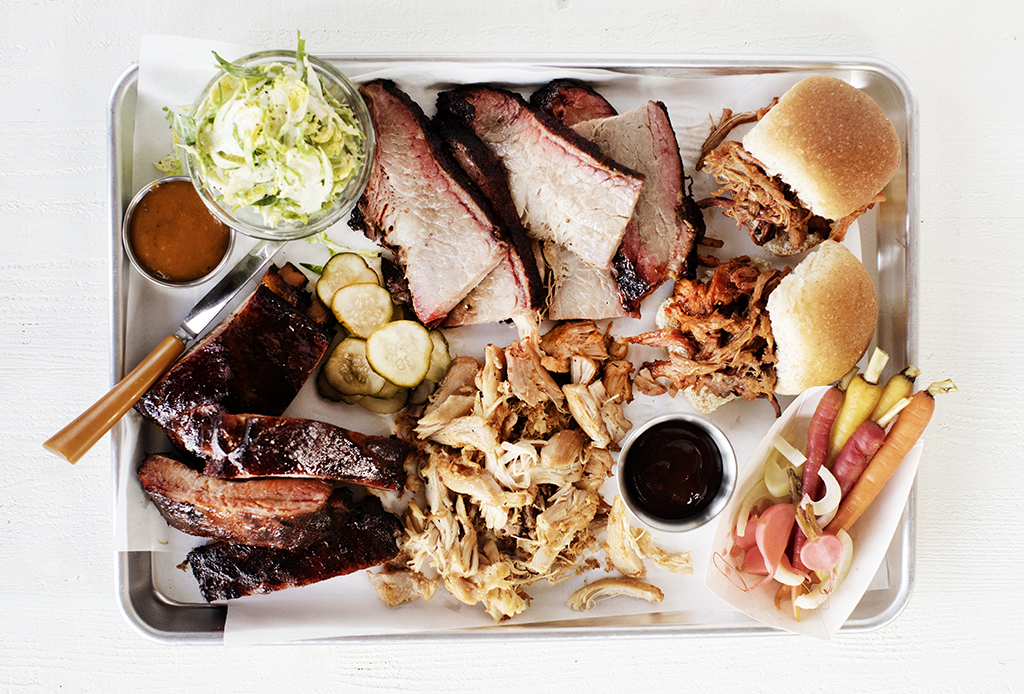 Pecan: Part of the Hickory family (although milder than Hickory), Pecanwood is stronger than fruitwood and burns slowly. With a delicate flavor, this wood is a great choice for poultry or pork. We use it to smoke a variety of products, including AUSTIN BLUES® Pork Shoulder, Rib Tips and St. Louis Style Ribs and our OLD SMOKEHOUSE® Pecanwood Bacon, to provide full-bodied flavor without being overpowering.
What Better BBQ Means For Your Menu
We know that Millennials and Gen Z crave experiences. Barbeque, whether grilling at home or going out to enjoy it, can deliver the adventurous and delicious experiences they crave1. For you, that means adding more smoky flavors and fusions across your menu, whether it's traditional American or something more worldly, like Korean street BBQ. And the more you understand what gives the meats their distinct flavors, the better your menu will be.
We hope this gives you more insight into the woods that make all the difference. If you have any questions about which smoke flavors are right for your menu, please reach out to us here.
1 Forbes, 2022
*Minimally Processed. No Artificial Ingredients.
---
RELATED CONTENT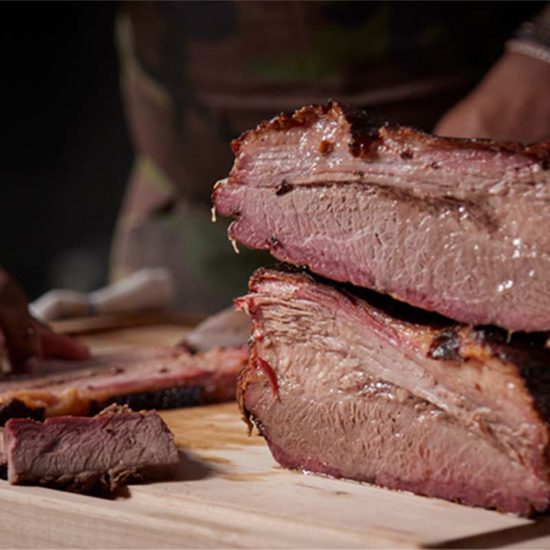 Why Brisket is Here to Stay
FROM GROWING TREND TO MENU MUST HAVE: Not that long ago, Texas-style brisket was an inexpensive workingman's meal found in…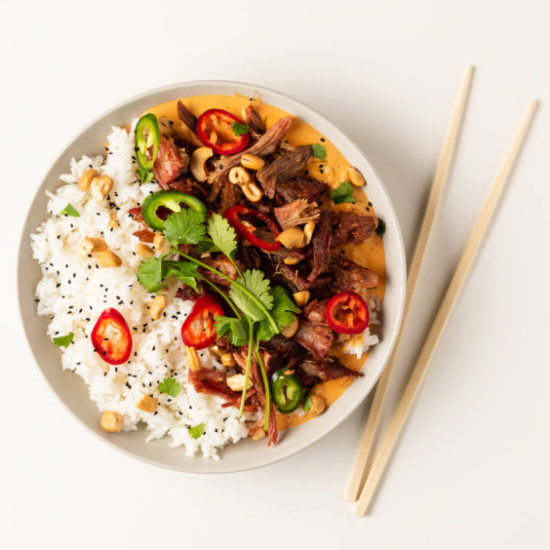 Red Thai Curry
This combo of curry, SKIPPY® Peanut Butter and AUSTIN BLUES® Pecanwood Smoked Pork Shoulder isn't just flavorful, it isn't just…