HORMEL
®

ROSA GRANDE

®

Pepperoni, Sliced, 2/12.5 lb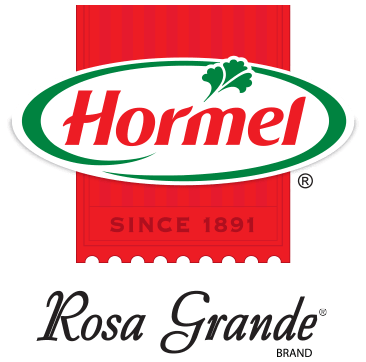 Hormel Product Code: #34749
GTIN #10037600347492
Follow ROSA GRANDE
®

Pepperoni. https://www.instagram.com/rosagrandepepperoni.

This sliced pepperoni is made from select pork and beef cuts. It has a classic flavor with a balance of sweet, savory, and spice. It is designed to cup and char like old fashioned pepperoni. This product has a small diameter of 1.25 inches.
Dependable performance, easy to handle.
Authentic appearance and classic flavor, resembling old fashioned pepperoni.
Designed to cup, char, and grease-out.
Back-flushed packaging delivers the freshest flavor.
Close Panel ‌

Great Choice!
Your request is on its way to a foodservice sales representative. Expect a follow-up shortly.
Product Overview Video
Suggested Use
& Menu Ideas
Preparation
Instructions
Nutritional
Information
Storage &
Master Dimensions
Watch this quick video to get a full picture of the product.
Suggested Use & Menu Ideas
Great as a pizza topping or as an ingredient. Also great for pasta dishes. Sliced Cup And Char Pepperoni For Pizza. 20-24 Slices Per Ounce.
Preparation
Fully cooked. Serve warm or cold. Simply open package and portion as needed.
Nutrition Facts
Calories 140
Calories From Fat 120
Vitamin A 0%
•
Vitamin C 4%
* Percent daily values are based on a 2,000 calorie diet. Your daily values may be higher or lower depending on your calorie needs.
Ingredients
BHA, BHT with Citric Acid Added to Help Protect Flavor Ingredients: Pork, Beef, Salt, Contains 2% or less of Water, Dextrose, Spices, Lactic Acid Starter Culture, Sodium Ascorbate, Oleoresin of Paprika, Garlic Powder, Sodium Nitrite, BHA, BHT, Citric Acid. In Collagen Casing.
Allergen Info
No Big 8 Allergens Present
Bioengineering Information
The National Bioengineered Food Disclosure regulations do not require disclose on the label for this product, this product may be exempt because of USDA amenability, has either no ingredients from a bioengineered source or if it contains an ingredient from a bioengineered source the ingredient has either highly refined ingredients that does not contain detectable modified genetic materials or certified organic.
Storage
Storage Temp
Minimum: 33 F
Maximum: 40 F
Storage Method
Keep Refrigerated
Master Dimensions
Pallet Pattern
10 x 5 = 50
Case Dimensions
15.63''L x 11.75''W x 7.5''H