OLD TYME
®

Hardwood Smoked Premium Buffet Ham, Water Added, 1 pc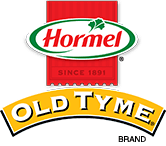 Hormel Product Code: #41073
GTIN #90037600410734
Buffet ham, hardwood smoked, boneless, water added, 1pc
OLD TYME® Buffet Ham is a water added, full muscle ham that is 95% fat free. The natural shape and hardwood smoke give this ham an old fashioned taste and appearance.
Whole muscle ham with excellent flavor and texture; water added for the tenderness that patrons love: hardwood smoked for an authentic, natural smoke flavor; 95% fat free appeals to health conscious patrons.
Close Panel ‌

Great Choice!
Your request is on its way to a foodservice sales representative. Expect a follow-up shortly.
Suggested Use
& Menu Ideas
Preparation
Instructions
Nutritional
Information
Storage &
Master Dimensions
Suggested Use & Menu Ideas
OLD TYME(r) Ham can be used for breakfast, lunch or dinner, as a main entree or as an ingredient. Ideal for slicing both thick and thin.
Preparation
OLD TYME® HAM is fully cooked and can be served hot or cold.
Nutrition Facts
Calories 60
Calories From Fat 25
Vitamin A 0%
•
Vitamin C 0%
* Percent daily values are based on a 2,000 calorie diet. Your daily values may be higher or lower depending on your calorie needs.
Ingredients
Cured With Water, Salt, Dextrose, Sodium Phosphates, Sodium Erythorbate, Sodium Nitrite.
Allergen Info
No Big 8 Allergens Present
Bioengineering Information
The National Bioengineered Food Disclosure regulations do not require disclose on the label for this product, this product may be exempt because of USDA amenability, has either no ingredients from a bioengineered source or if it contains an ingredient from a bioengineered source the ingredient has either highly refined ingredients that does not contain detectable modified genetic materials or certified organic.
Storage
Storage Temp
Minimum: 33 F
Maximum: 40 F
Storage Method
Keep Refrigerated
Master Dimensions
Pallet Pattern
14 x 7 = 98
Case Dimensions
16.1''L x 7.6''W x 5.7''H