NATURAL CHOICE
®

Bacon, Uncured, 18/22 slice, 15 lb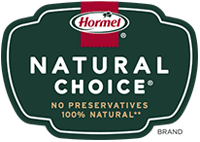 Hormel Product Code: #55139
GTIN #10037600551394
100% natural (minimally processed, no artificial ingredients) Raw Wide Shingle Bacon
NATURAL CHOICE® uncured bacon is smoked over 100% applewood chips is 100% natural (minimally processed, no artificial ingredients), no added msg, no added nitrates or nitrites, and is gluten-free.
Naturally smoked over applewood gives bacon great flavor for superior customer satisfaction.
100% natural (minimally processed, no artificial ingredients).
Close Panel ‌

Great Choice!
Your request is on its way to a foodservice sales representative. Expect a follow-up shortly.
Suggested Use
& Menu Ideas
Preparation
Instructions
Nutritional
Information
Storage &
Master Dimensions
Suggested Use & Menu Ideas
Use as a center of the plate breakfast meat or as flavorful addition to sandwiches, salads, soups, and entrees.
Preparation
NATURAL CHOICE® uncured bacon can be prepared in the oven or on the grill. It is laid out on friable parchment paper which will not burn. *GRILL- 375 degrees for 3-5 minutes on each side. *OVEN- 375 degrees for 10-15 minutes.
Nutrition Facts
Calories 80
Calories From Fat 60
Vitamin A 0%
•
Vitamin C 0%
* Percent daily values are based on a 2,000 calorie diet. Your daily values may be higher or lower depending on your calorie needs.
Ingredients
Not Preserved - Keep Refrigerated Below 40°F At All Times NO NITRATES OR NITRITES ADDED EXCEPT FOR THOSE NATURALLY OCCURRING IN CELERY JUICE POWDER Ingredients: Pork, Water, Salt, Turbinado Sugar, Cultured Celery Powder, Sea Salt.
Allergen Info
No Big 8 Allergens Present
Bioengineering Information
The National Bioengineered Food Disclosure regulations do not require disclose on the label for this product. Please contact the Regulatory Affairs group (RALF) for additional Bioengineered evaluation required on this item.
Product Claims
100% NATURAL
GLUTEN FREE
MINIMALLY PROCESSED
NO ARTIFICIAL INGREDIENTS
NO MSG ADDED
NO NITRATES OR NITRITES ADDED*
NO PRESERVATIVES
*EXCEPT FOR NATURALLY OCCURRING ______. SEE CLAIM CLARIFICATION FOR SPECIFIC INGREDIENTS THAT NEED TO BE LISTED HERE.
CULTURED CELERY POWDER AND SEA SALT
Storage
Storage Temp
Minimum: 33 F
Maximum: 40 F
Storage Method
Keep Refrigerated
Master Dimensions
Pallet Pattern
8 x 9 = 72
Case Dimensions
18.13''L x 12.13''W x 4.31''H