SKIPPY
®

Creamy Peanut Butter, 8/40 oz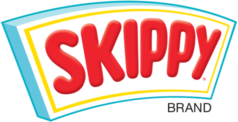 Hormel Product Code: #10862
GTIN #10037600108628
Creamy Peanut Butter.
Made from only the freshest peanuts and packed with a great peanut flavor. Spreads on smooth and creamy for maximum coverage.
A flavor that's universally loved with just the right balance of sweet and salty.
From a simple sandwich spread to an ingredient in exotic sauces or comforting baked goods, it works in a variety of different applications.
Close Panel ‌

Great Choice!
Your request is on its way to a foodservice sales representative. Expect a follow-up shortly.
Suggested Use
& Menu Ideas
Preparation
Instructions
Nutritional
Information
Storage &
Master Dimensions
Suggested Use & Menu Ideas
Great for breakfast, lunch, dinner, desserts, or snacks.
Preparation
Ready to eat.
Nutrition Facts
Total Carbohydrate 6 g
2%
Includes 2g Added Sugars
4%
* Percent daily values are based on a 2,000 calorie diet. Your daily values may be higher or lower depending on your calorie needs.
Ingredients
Ingredients: Roasted Peanuts, Sugar, Hydrogenated Vegetable Oil (Cottonseed, Soybean and Rapeseed Oil), Salt. Contains: Peanuts.
Bioengineering Information
The National Bioengineered Food Disclosure regulations do not require disclose on the label for this product, this product may be exempt because of USDA amenability, has either no ingredients from a bioengineered source or if it contains an ingredient from a bioengineered source the ingredient has either highly refined ingredients that does not contain detectable modified genetic materials or certified organic.
Product Claims
GLUTEN FREE
KOSHER - CIRCLE U - ORTHODOX UNION
NO PRESERVATIVES, ARTIFICIAL FLAVORS OR COLORS
SIMILAR TO ALL PEANUT BUTTERS
Nutrition Claims
7 grams protein per serving
7% Daily Value
Storage
Storage Temp
Minimum: 40 F
Maximum: 90 F
Storage Method
Keep Dry and Cool
Master Dimensions
Pallet Pattern
15 x 7 = 105
Case Dimensions
15.75''L x 8''W x 6.5''H