ALWAYS TENDER
®

Rib, St. Louis Style, Slab, Vacuum Packed, 3/6 pc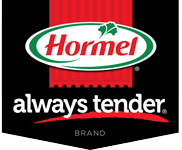 Hormel Product Code: #44811
GTIN #90037600448119
Fresh Pork St. Louis Rib
Made from fresh, lean spareribs weighing 2.15-2.5 lbs. and trimmed of fat.
Marinade keeps the product moist even if overcooked or held for long periods of time.
Neutral flavor profile makes it ideal for any recipe idea.
Improved yield over conventional pork.
Close Panel ‌

Great Choice!
Your request is on its way to a foodservice sales representative. Expect a follow-up shortly.
Suggested Use
& Menu Ideas
Preparation
Instructions
Nutritional
Information
Storage &
Master Dimensions
Suggested Use & Menu Ideas
Traditional Pork Rib that can be used as part of a dinner or cut into individual bones for an appetizer.
Preparation
Preheat convection oven to 350 degrees. Cook until tender and the internal temperature reaches 155 degrees.
Nutrition Facts
Calories
Calories From Fat
* Percent daily values are based on a 2,000 calorie diet. Your daily values may be higher or lower depending on your calorie needs.
Bioengineering Information
Has not been evaluated for BE content.
Storage
Storage Temp
Minimum: 28 F
Maximum: 34 F
Storage Method
Keep Refrigerated
Master Dimensions
Pallet Pattern
7 x 5 = 35
Case Dimensions
19.75''L x 12.75''W x 8.38''H